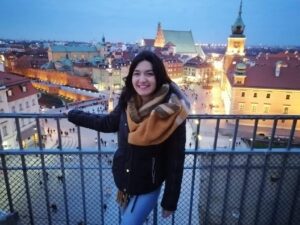 Zoom link – https://us05web.zoom.us/j/4414138332?pwd=MmV0cUhDeDBRWWZXQkloMW9YenIyZz09
Hello, my name is Izza!
I am a Mexican nurse passionate about teaching, I love to impact others and generate a change in their lives, I truly believe that communication should generate bridges and not create walls between countries, you can learn too much about different cultures by learning new languages, I also think that Spanish is a beautiful way to express yourself! In my free time I volunteer in the ambulance, I teach first aid courses, I also love art, camping and cycling. I can't t wait to meet you. I'll see you in class!