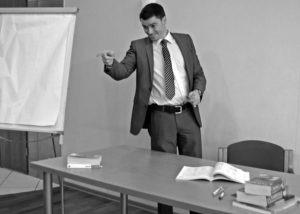 Hi there.
The name's Wood. Alex Wood.
And by that, you'll gather that I'm a Bond fan along with all the other quintessentially English (and non-English) geeky things. Star wars, Harry potter, LOTR….and football….Manchester — the red side of the city, not blue — as well as other sporty activities.
Originally born on the outskirts of London, I was raised on Hayling Island, Hampshire, Great Britain where I resided until 2008 when I made the leap to Poland and became a native speaker in Mikołow. And no looking back.
I originally worked within a Hotel chain where I had hoped to move into management before deciding it was utter crap and was completely exhausted of listening to people complain. Now, I do the complaining…"Where's your homework!" "Don't throw that you little toe rag" 🙂
Teaching's a no-brainer. It soars above other professions. And I like it. It's fulfilling seeing people's abilities thrive (most of the time.
I'm TEFL qualified with 10 years experience with an abundance of clients, students, businesses behind me.
Seeya
Zoom link – https://us02web.zoom.us/j/4581157459
Native speaker w Mikołowie